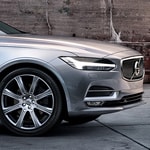 Those looking for a safe vehicle would do a lot of searching in the past. They had to scour though dozens of vehicles to get to the ones they were looking for, and that was a lot of legwork. Now, they can read an online review about the Volvo V90 and be sold on it.
The Volvo V90 has a security system that prevents thieves from getting very far as it cuts off the ignition on those who try to make an illegal entry into the vehicle. That is a nice touch on a vehicle that has a lot of them.
There are anti-whiplash features available as well that help passengers of a Volvo V90 keep from getting a bad case of whiplash. This is relevant as whiplash is a common result of being involved in an accident of any kind. Look at this as an extra feature worth checking out and consider the Volvo V90 as your next vehicle.