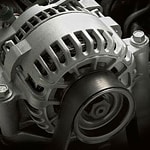 When your battery stops working, you may find that a simple and relatively low-cost replacement is the most appropriate solution. For some drivers, however, battery replacements won't provide a lasting fix. At Volvo Cars Cincinnati North, we believe that it's important for motorists to know exactly what their cars' alternators are designed to do. Knowing how your alternator affects battery performance can make it infinitely easier to resolve a number of common problems.
Your Alternator Helps Keep Your Battery Charged
A dead battery that needs to be replaced is often no longer able to hold its charge. When the alternator is working like it should, it can continuously recharge a functional battery whenever the engine is on. The result is a car that starts and runs reliably.
The Alternator Also Assists In The Operation Of Electric Features
In addition to recharging your car's battery, the alternator also assists in the operation of electrical features. It plays a role in the functioning of your windshield wipers, the interior lights, the headlights, and more. If the alternator starts to go out in your auto, you may notice erratic functioning across multiple electric features. To find out more about your vehicle's alternator or to get end-to-end auto servicing, come see us at Volvo Cars Cincinnati North.